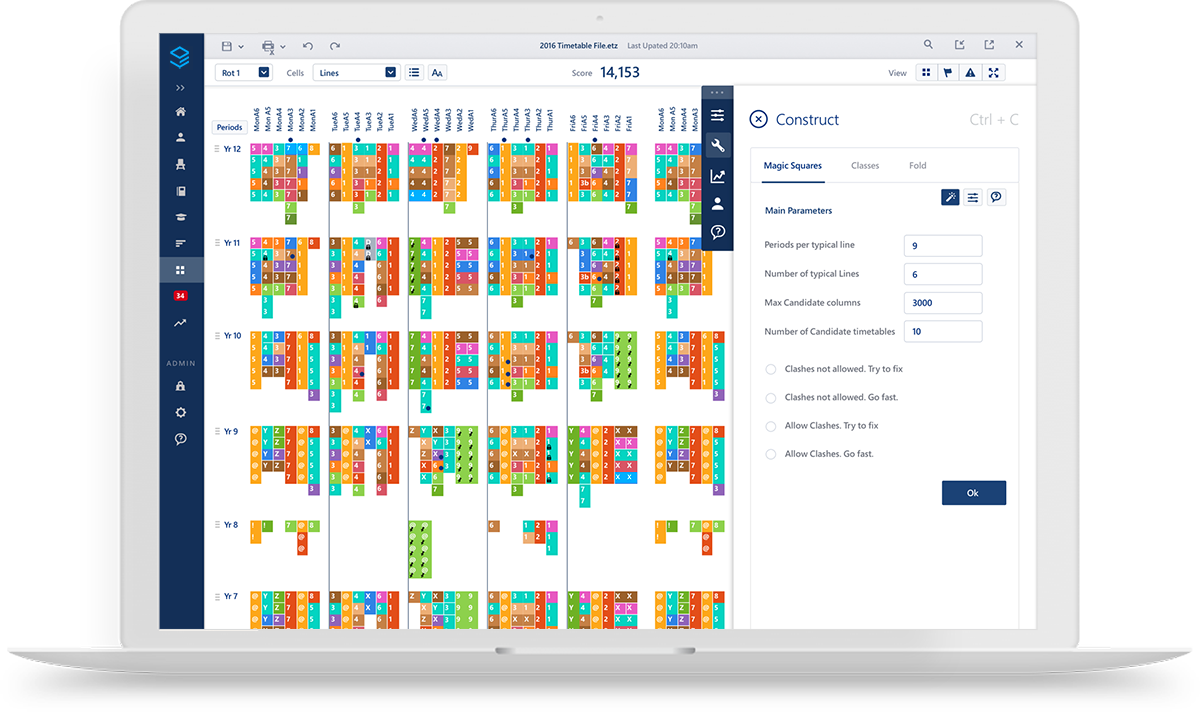 Edval 10 Frequently Asked Questions
In order to include some new functionality and to pave the way for exciting future developments, we have changed the underlying software.  In the process, we have redesigned the layout and improved functionality, adding some long-requested new features. We are referring to this version as Edval 10 or E10. 
Is it cloud based?
No, Edval 10 is a single user desktop product.
How much will it cost?
Edval 10 will not cost you any extra, it is covered in your annual subscription fee.
Do I need training?
We do not believe you will need training to use Edval 10. The basic functionality of the program has not changed. We have had a number of schools Beta test the product for us and the feedback is that it is much simpler to use.
We will provide several short videos that give an overview of major changes but clients who opt-in to use Edval 10 will need to rely on existing knowledge and documentation. The videos will cover enough detail for an experienced user to be able to explore the file options.
Edval also provides an Edval 10 specific email support site.
Will my old files work?
The data is backwards compatible which means schools may open the file either in existing Edval9 or new Edval10 software.
What if I don't like the new version?
You are welcome to keep using Edval 9 but we will no longer be adding any features to the product, effective immediately. We will continue to fix any bugs that are found until 30 June 2020. To make the most of your timetabling experience we recommend you opt-in to use the new software sometime this year. We know you will love it.
Does it work with Edval Daily and Edval Choice?
Syncing to 
Edval
Choice is supported. Syncing to
Edval
 Daily is also supported.
Can we still use Edval Staff?
Yes, 
Edval
 Staff can continue to be used by those administering student
enrolments, and changes are processed by 
Edval
 10 in the same way that 
Edval
9 did.
Does it work with my Admin System?
Syncing to 
almost all systems has been completed.  For a small number of
systems, syncs are currently in testing and will make their way into the product
over a short period of time.
Does it hold family data?
The Family data is no longer stored in the timetable etz. It can be uploaded to Spring via a csv.  This decision was driven by privacy and data security. Firstly, the Family data was causing lots of issues with Edval Interview events and syncing.  Secondly, as an international company, Edval is bound by the Global Data Protection Regulation (GDPR) and Australian Privacy Principles.
Having sensitive family data in the etz file posed a data security risk since etz files are often emailed to various parties.  
Is anything missing?
A small number of reports and exports are still to be built, but we're satisfied
that the large majority of schools won't miss anything.
What's not coming back?
Secret Stuff – This was obviously not so secret.  The popular features have been

 

integrated into relevant options within the system and others have been removed.

Teachers > Staff meetings – replaced by improved version in Class data

 
So what's new?
We are glad you asked.
New layout

New Dashboard with

What's New

clearly visible

Improved features for enhanced user experience and intuitive navigation

Improved and additional optimisation algorithms

Undo/Redo – YES, at last!

Bulk teacher assignment for meetings

Tabs for common functions

Ability to create custom shortcuts